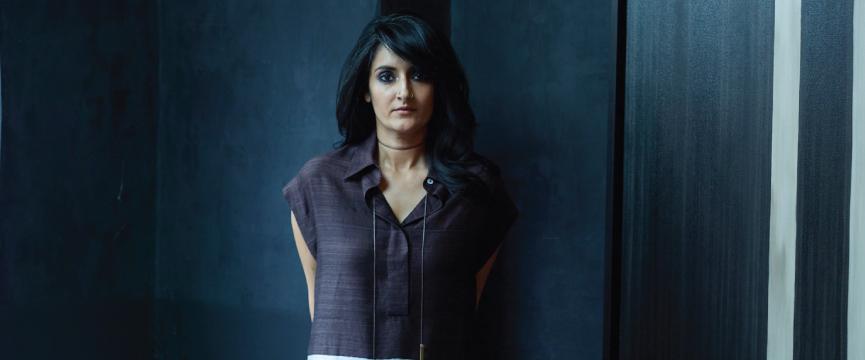 Payal Khandwala believes hard work is important when it comes to following one's passion, but taking time out to enjoy life is equally necessary. We take a look at how she's able to follow her heart both as a designer and as an artist, while also managing her family and finances.
For an artist of any kind, it's incredibly important to stay true to your art above everything else. Unfortunately, it today's world, it isn't always possible to chase your dreams while also earning enough money to make ends meet. Luckily, Payal Khandwala , the creativity in her DNA together with her parents' support made it possible for her to reach beyond the horizon.
As a child, Payal's clothes were mostly made by her mother, and this is perhaps what encouraged her to make clothes for her dolls. As she herself says, "My mother sewed my clothes when I was a child, as did my grandmother for my mother. So in a way it was in my DNA…" She also watched her mother paint, and that's when her love for creating art blossomed. Payal grew up and pursued a degree in fine arts in Mumbai, but it wasn't enough to satiate her creative soul. She wanted more, and she moved to New York in 1995 to study illustration and fine arts at the Parsons School of Design.
Payal excelled in her work, and her senior year thesis was exhibited at a gallery in New York. However, to be able to make rent, she had to take up a full-time job that took her away from her art. She wasn't ready to give up her passion though, and came back to Mumbai in 2002 to chase her dream. Today, Payal's artworks are mostly done on a consignment basis, while her main focus is her eponymous clothing label that she launched in 2012.
Payal has managed to strike a beautiful balance in her life when it comes to work and play. Despite the fact that being an artist and a designer takes up a lot of her time, she also makes sure she enjoys life. To her, spending time with her family, looking after her pets, watching a movie, and travelling are just as important as doing a good job at work. She gives voice to her thoughts quite eloquently, "I think if your priorities comprise a well-rounded life, then the dramatic hurdles and an angst-ridden worldview is a bit of a cliché."
Payal understands that along with money, patience, discipline, perseverance, hard work and a bit of luck have all helped her achieve the success she enjoys today. Her journey was quite organic, and while she never really had a set goal in life, she feels it's important to visualise your dreams and be honest with yourself. She adds, "It also helps to be realistic, and to be your best critic and competitor. Having a point of view that is considered and [is] authentic can be your biggest differentiator."
When it comes to managing our finances, we can learn a thing or two from Payal. As with life, we need to learn how to balance our finances. While saving is important, we shouldn't have to cut costs by sacrificing everything we want today for a more secure tomorrow. Sometimes it's alright to splurge on things you love, as long as you have an understanding of how much you need to put away at the end of the day. With a goodsavings and investment plan, you can prepare your financial future, without compromising too much in the present.